A discussion of maximum seating distance
Robert Shook, ASTC

Renowned set designer Ming Cho Lee sketched a comparison of a small scene viewed from two different theatres. On the left, the actors in a dramatic setting will be easy to see and their facial expressions can be discerned; on the right, the actors are dwarfed by a larger auditorium which might be more appropriate for grand opera.
In the spring of 1996, the ASTC Newsletter tackled the issue of maximum seating distance from a stage. While new technology may be changing the rules a bit, the fundamental approach to determining how far audience members can be placed from the stage remains the same. Robert Shook revisits his original article and updates it.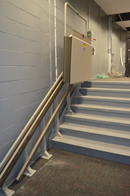 This control booth, under construction, utilizes a wheelchair lift to resolve accessibility. This is just one way to provide accessibility.
Paul G. Sanow, ASTC
Despite what seems to be clear requirements that almost every control booth should be accessible, some architects and owners hope to avoid the expense and hassle of compliance.
Early in the design of nearly every theatre facility we must tackle the subject of control booth accessibility. It doesn't seem to matter if it's a school, small civic entity or commercial space, the issues are important. If not planned early, it can be difficult or expensive to integrate accessibility so technicians with mobility disabilities can access control booths to operate lighting, A/V or other similar functions.
Paul G. Sanow, ASTC

For the third year, ASTC and The United States Institute for Theatre Technology (USITT) are conducting the Student Theatre Renovation Challenge. It is a teaming of students and an ASTC member Theatre Consultant to develop a theoretical renovation project.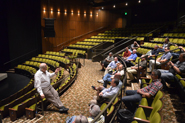 ASTC Members listen as Tom Folsom discusses his involvement in the renovation of the Mark Taper Forum in Los Angeles. ASTC Forum 2014.
Heather McAvoy, ASTC
ASTC Members will rarely turn down an opportunity to tour new or old performing arts venues, or a chance to talk about the state of facility design. Each year members of ASTC gather in one city for a weekend of learning and investigation. This year ASTC will meet in New Orleans.


...READ MORE
Kent Conrad, ASTC
In the past year, ASTC has welcomed a number of new and associate members to its roster. ASTC membership is limited to full-time, professional theatre consultants who demonstrate expertise and experience in the design of performing arts facilities
Join our New LinkedIn and Facebook Pages
Thanks so much for reading! If you have any questions or comments, please email us!